The Northern Kane County Illinois Chapter of Wild Ones was founded in 2009 as a chapter of Wild Ones. We are committed to promoting the use of native plants in landscaping, gardening, naturescaping and land restoration. Wild Ones is a not-for-profit environmental education and advocacy organization.
The mission of Wild Ones is to promote native plants, natural landscapes, and environmentally sound landscaping practices to preserve biodiversity through the preservation, restoration and establishment of native plant communities. Wild Ones continues to lead the natural landscaping movement as we explore, teach, and change the practice of gardening in our communities and around the country to using native plants.
Please join us on Saturday, July 28, 2018, at 10:00 AM for a tour of Patty Golden?s yard–14N810 Lac du Beatrice, West Dundee, 60118, off Boncosky Rd. 2nd house from the left. Patty suggests you park on the right hand side to more easily tour the prairie garden. Patty?s garden is a 2-acre, pie shaped property, and is a Pat Hi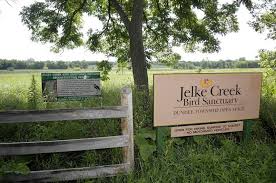 ll Prairie Garden design: in 1992 for the entry garden and in 2014 for the prairie garden. There will be lots of color at this time of the year, as well as dragonflies, damselflies and butterflies. It is beautiful not only from March through October, but with winter interest as well. Her biggest challenge is in keeping the tall plants in check so that everything can be seen. Patty has enjoyed the how her gardens have evolved and loves that is has a positive environmental impact as well as providing beauty. She and her husband hope to put in more prairie plants and perhaps a rain garden
After the tour, we will cross the Boncosky Road and tour Jelke Creek Bird Sanctuary, (35W575 Boncosky Rd) , a beautiful reclaimed quarry inspired and directed by our own Sue Harney when she was Dundee Township Supervisor.
On Sunday, July 29, 2018, we will go on a field trip to Northwind Perennial Farm in Burlington, WI. (7047 Hospital Road). Interested participants can meet us there or meet at Christ the Lord Lutheran Church (12N462 Tina Trail, Elgin) at 9:30 AM. Given construction and traffic, we plan to get to Northwind at 11:00. The tour and talk by Northwind Perennial Farm owner, Roy Diblik, will take 1.5 to 2 hours. We expect to be back by 3:30 or 4:00 depending upon stopping for lunch. For more information on Northwind, go to http://northwindperennialfarm.com/ Be sure to check a map program if you drive, as there is much construction.